Lacey Street wins Your Move 'Best Affordable Housing' Award
Lacey Street wins Your Move 'Best Affordable Housing' Award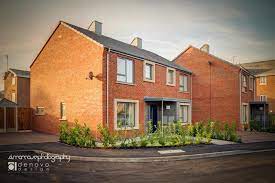 The latest Cruden Construction development in Lacey Street, Kingsway, Widnes; designed by award winning architects DENOVO DESIGN Ltd, which includes both contemporary roof cowls and contemporary door entrance canopies supplied by STORMKING, has won the 'Best Affordable Housing' gong at the Your Move Property Awards on Thursday 15th October night!
A spokes person for Denovo Design Ltd commented on the achievement "It was a great achievement by everyone involved in the scheme, which the judges who visited site commended for its innovation; sense of space, robustness of detail and affordability.  They also liked how the buildings were arranged to create a 'sense of community; the landscaping and the use of living walls to green the streetscape, (creating) a pleasant oasis in an otherwise fairly harsh urban environment'.
Congratulations everyone on a fine achievement!"
Stormking was selected to design and manufacture these sun pipe housing units and with a reputation to provide prefabricated products to ISO 14001 Environmental Standards and deliver on time and within budget, the task has been completed to everyone's satisfaction.
Stormking incorporated their patented plinth box detail with the cowl and sun-pipe to provide a product that is lightweight, low maintenance and simple to fix. The prefabricate cowls incorporate all side and lead apron flashings and are fully assembled to receive the sun-pipe assembly.
The cowls are available to suit any standard roof pitch and can be sited on the ridge or rafter slope, and can be manufactured in any RAL colour of the client's choice.
The housing scheme is the latest to be completed by Denovo Design Ltd which incorporates these new products, they also include Stormking contemporary entrance canopies to complement the finished development.
Such the success of these sun pipe housing, that major house builder Barratt Homes has installed them on a project in Cottam, Preston, along with our Copeking system and GRP Window Surrounds which help enhance a contemporary feel to the development.