Stormking Plastics Ltd. Identified in London Stock Exchange's '1000 Companies to Inspire Britain'
STORMKING PLASTICS Ltd. Identified in London Stock Exchange's '1000 Companies to Inspire Britain'
Stormking has been recognised in the second edition of London Stock Exchange's 1000 Companies to Inspire Britain report 2015
These prestigious awards Identify the fastest-growing and most dynamic small and medium sized businesses (SMEs) in UK
Stormking Plastics was established in 1985 and is now the largest manufacturer of pre-fabricated GRP components to the UK house building market.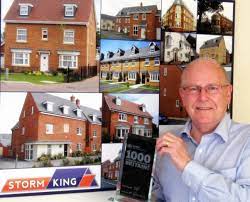 Stormking Plastics Ltd. has been identified as one of London Stock Exchange's 1000 Companies to Inspire Britain. The report is a celebration of the UK's fastest-growing and most dynamic small and medium sized businesses.
To be included in the list, companies needed to show consistent revenue growth over a minimum of three years, significantly outperforming their industry peers. More detail on the methodology can be found in the report online at http://www.lseg.com/resources/1000-companies-inspire-britain.
Stormking Chairman and Founder Gary King "We are proud to be recognised by the London Stock Exchange for the manner in which we have developed our business over the last 30 years. Stormking is now recognised by all the major UK House Builders as the leading manufacturer of quality pre-fabricated GRP products and is the only producer to have BBA Certification and both ISO Quality and Environmental Standards. Our products are helping the construction industry meet the increased targets needed to supply the housing needs of the country"
Xavier Rolet, Chief Executive, London Stock Exchange Group said: "This report is a significant part of London Stock Exchange's broader campaign to support UK high growth companies in their journeys from Start-up to Stardom and to create an entrepreneurship revolution. I'm delighted that a strong alliance between UK Government, financial market participants, investors, entrepreneurs and companies has been created to support these inspiring businesses."
A full searchable database of all of the companies along with a downloadable pdf of the publication can be found online at http://www.lseg.com/resources/1000-companies-inspire-britain