Stormking Sets Industry Standards With British Board Of Agrément Accreditation
The British Board of Agrément (BBA) has been providing authoritative and independent information on the performance of building materials, products, and systems for over 50 years. The certificates awarded by the BBA contain important data on durability, installation, and compliance with UK Building Regulations, providing the construction industry with the crucial information it needs for specifying only the highest quality products.
Stormking, a UK-based designer and manufacturer of Glass Reinforced Plastic (GRP) building components for over 35 years, has been awarded BBA accreditation since 2017. As the only GRP UK manufacturer to receive the accreditation, Stormking works hard to maintain the excellence demanded to achieve this independent quality assurance mark, as Andrew Almond, Marketing Manager of Stormking, explains:
"Stormking holds BBA certificates for its dormer, imitation chimney and bay window ranges, confirming the products comply with all National House Building Council regulations and standards. We are then independently audited at least twice a year to ensure we are maintaining the levels of quality required to retain these BBA accreditations."
When reviewing a product, the British Board of Agrément assesses several key factors, from structural performance, weather tightness, thermal properties to durability, behaviour to fire and loading. If a product is deemed suitable, the resulting certification covers aspects such as design, installation guidance, independently verified technical specifications, and compliance.   
"Maintaining these certificates is extremely important to Stormking," continues Andrew. "Not only are they a way of showing our products meet, and in many cases exceed, the current set of building regulations, providing a competitive advantage in an extremely competitive market, but they also enable us to demonstrate the traceability of our raw materials.
"Transparency of the supply chain, and most importantly the traceability of raw materials, is of ever-increasing importance to our customers. The positive close working relationships we have forged with our suppliers over several years, allows us to react in a timely manner to our customers demands. Not only does this satisfy the BBA, but it also demonstrates our integrity to our customers," adds Andrew.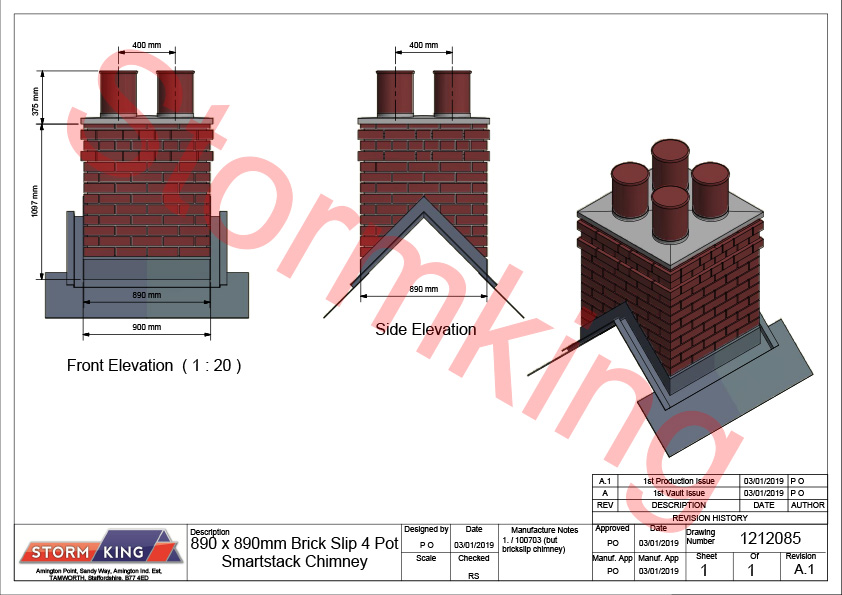 "Achieving BBA accreditation is the realisation of the hard work the whole Stormking Team has invested – and continues to invest – in the development of our products. The time, effort and energy spent maintaining the exacting levels set by the BBA is to demonstrate our commitment to our customers and to ensure they continue to receive only the highest quality component building products.
"The BBA logo, which is a mark of quality and trust, is a sign that we have been externally audited by a completely independent body which is operating on behalf of the customer. Wherever they see this mark, our customers can be confident that whether they are buying one or 100 products, each is manufactured to the same set of standards, using only the best raw materials in a quality-orientated environment.
"Stormking will continue to invest in the British Board of Agrément both to ensure excellence within its own manufacturing processes and to continue providing its customers with the quality of products they have now come to expect."
For further information about Stormking and its BBA Accreditation, visit our BBA accredited product pages for SmartStack Chimney's or call to discuss your enquiry on 01827 311 100 or email sales@stormking.co.uk