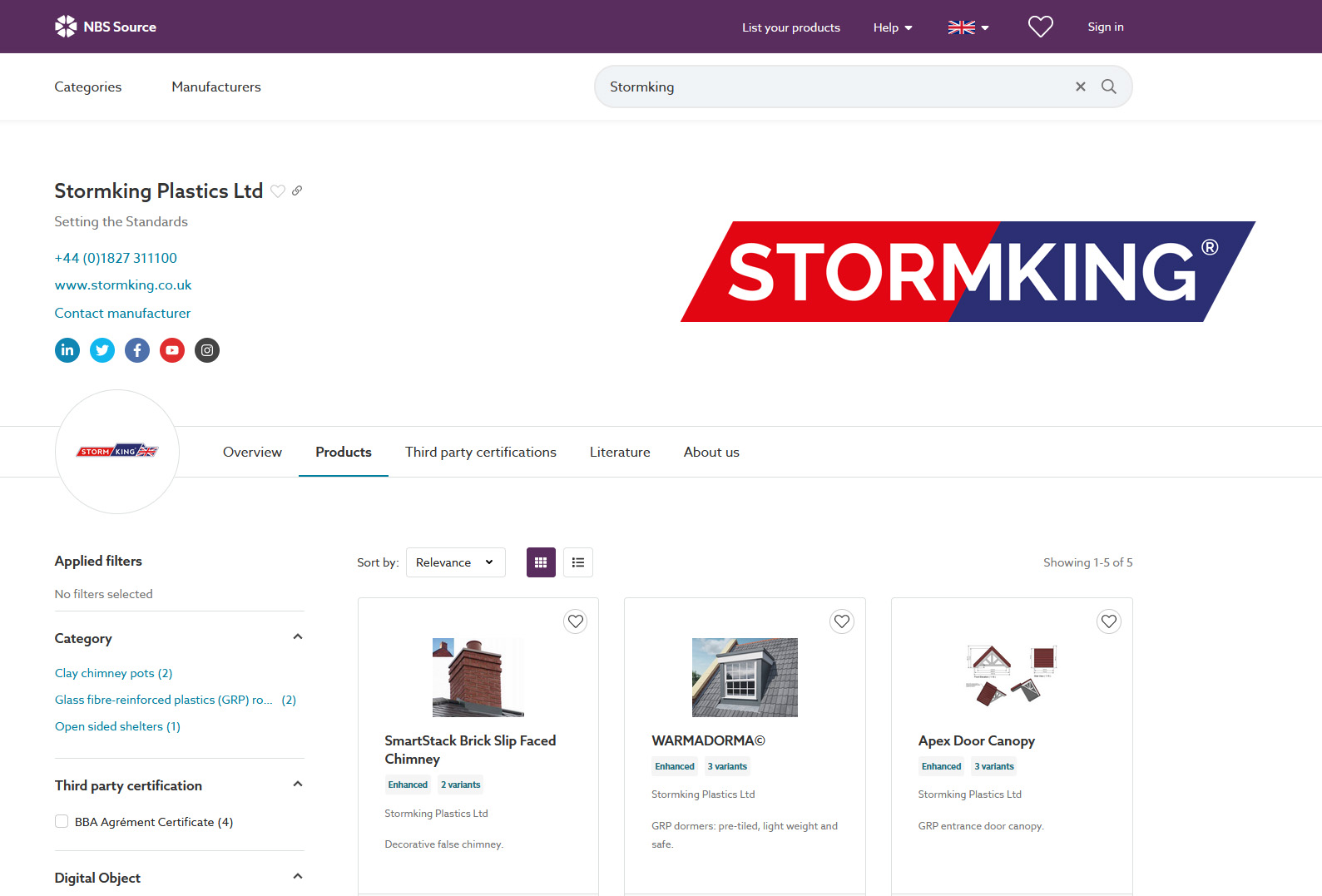 March 28, 2022
Going Directly To the Source With Stormking
We are delighted to announce that Stormking is now featured on NBS Source.
NBS Source, an online database, provides the construction industry with detailed product information and data. It enables architects to find products, select those which are most suitable based on technical information, values, and comparisons, and add them into the building's specification. The platform also allows products to be integrated directly into a project workflow or 3D model.
Stormking's diverse range of dormers – including our patented WARMADORMA® – bay window roofs, and SmarkStack GRP and Brick-Slip chimneys, are all included in the digital catalogue, allowing users to access the Building Information Modelling (BIM) files of our extensive product portfolio.
Andrew Almond, Marketing Manager here at Stormking, explains the importance of NBS Source and Stormking's inclusion, for both us and you, our customers:

"NBS Source provides the industry with an invaluable resource of product information, collating relevant data in one place and enabling architects to specify products more efficiently and effectively. Once specified, buyers simply contact the supplier directly, saving both time and money on the product purchasing process.
"Being included in NBS Source allows Stormking to have its products in front of the leading decision makers in the industry. We are the only UK GRP manufacturer to hold The British Board of Agrément (BBA) accreditation and work continuously to ensure we maintain the level of quality demanded to achieve this accolade. We are committed to designing and manufacturing only the highest quality products, which can now be easily accessed on NBS Source."
Visitors to our NBS Source profile will find details about Stormking, our heritage and our comprehensive range of GRP building products, as well as detailed product literature and helpful installation guides. Combined, this information will help architects quickly and easily specify the very best GRP products for their projects.
To access Stormking's profile on NBS Source directly go to source.thenbs.com and search for Stormking. Alternatively, for further information about Stormking please visit www.stormking.co.uk or call 01827 311 100 to discuss your next project.